Finally Kareena Kapoor Son Jeh Ali Khan First Photo Came Out Sara Ali Khan Shared Jehangir's Picture On Saif Ali Khan Birthday, See Here
Jeh Ali Khan Photo: Finally the wait of the fans is over. The moment that the fans of Kareena Kapoor and Saif Ali Khan had been waiting for for months, the clock came and they showed the face of Jeh Ali Khan. Yes… today, on the occasion of Saif Ali Khan's 50th birthday, Sara Ali Khan has shared a very cute picture of Jehangir Ali Khan aka Jeh. In which his face is clearly visible. And believe me, Jah is so cute that seeing this picture of him, you will also fall in love. If you do not believe us, then see for yourself.
If you remember, Sara Ali Khan also celebrated her birthday three days ago. On August 12, Sara Ali Khan reached the house of Papa Saif Ali Khan and Kareena Kapoor on her birthday. Where the birthday was celebrated by cutting the cake. This picture was clicked on the same occasion, which has been shared today on the birthday of his Abba Saif i.e. on a very special day. In which Sara Ali Khan, Saif Ali Khan, Kareena Kapoor and Jeh are all seen together. Kareena holds Jeh in her arms, who is looking at Sara with great love. And only this style of her is grabbing everyone's attention.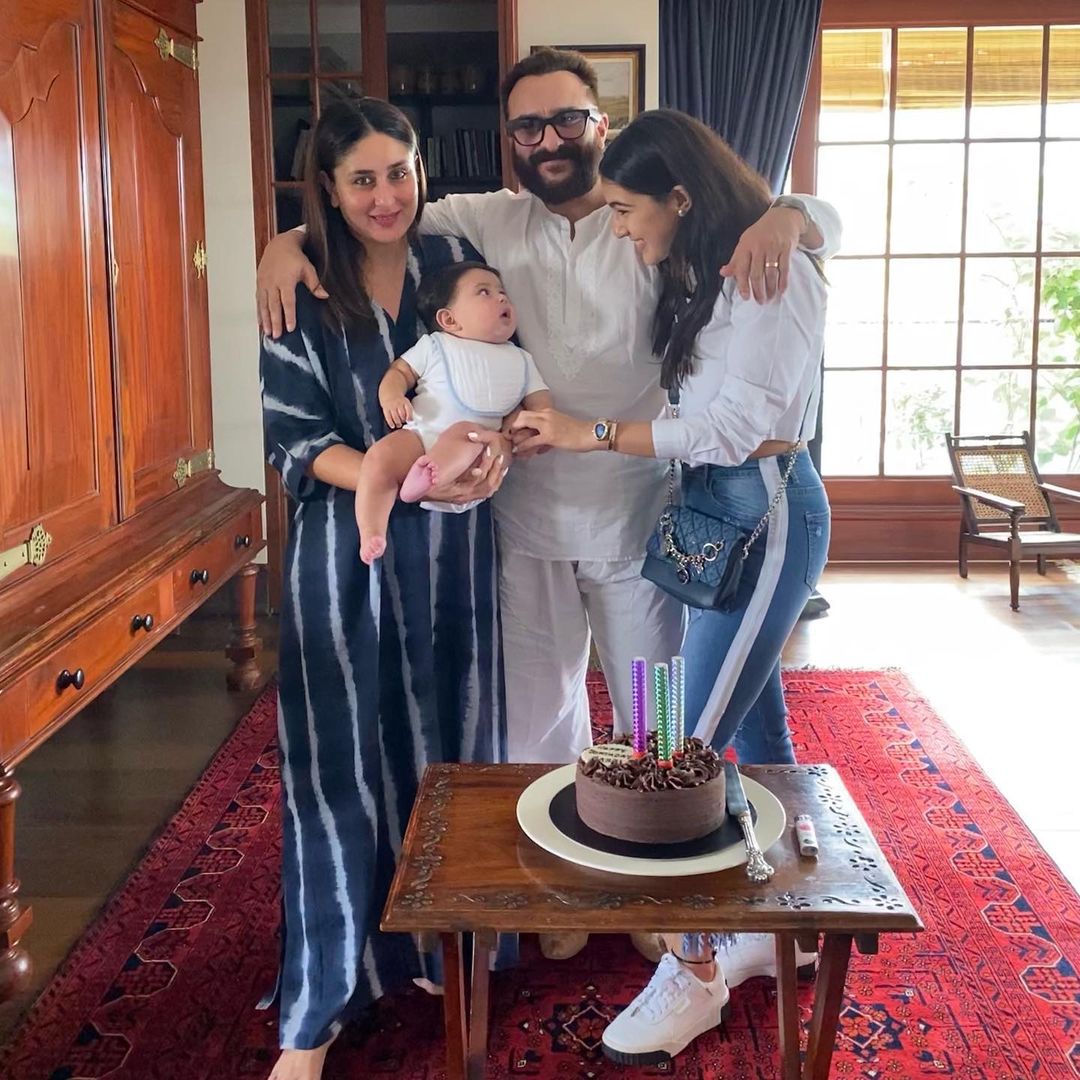 Sara has shared two pictures on her Instagram, in the first picture where she is with Jeh, Kareena and Saif, in the second picture she is posing with her father Saif Ali Khan. He has a cake in his hand and a lot of pink balloons are placed next to him. On which is written Happy Birthday Sara.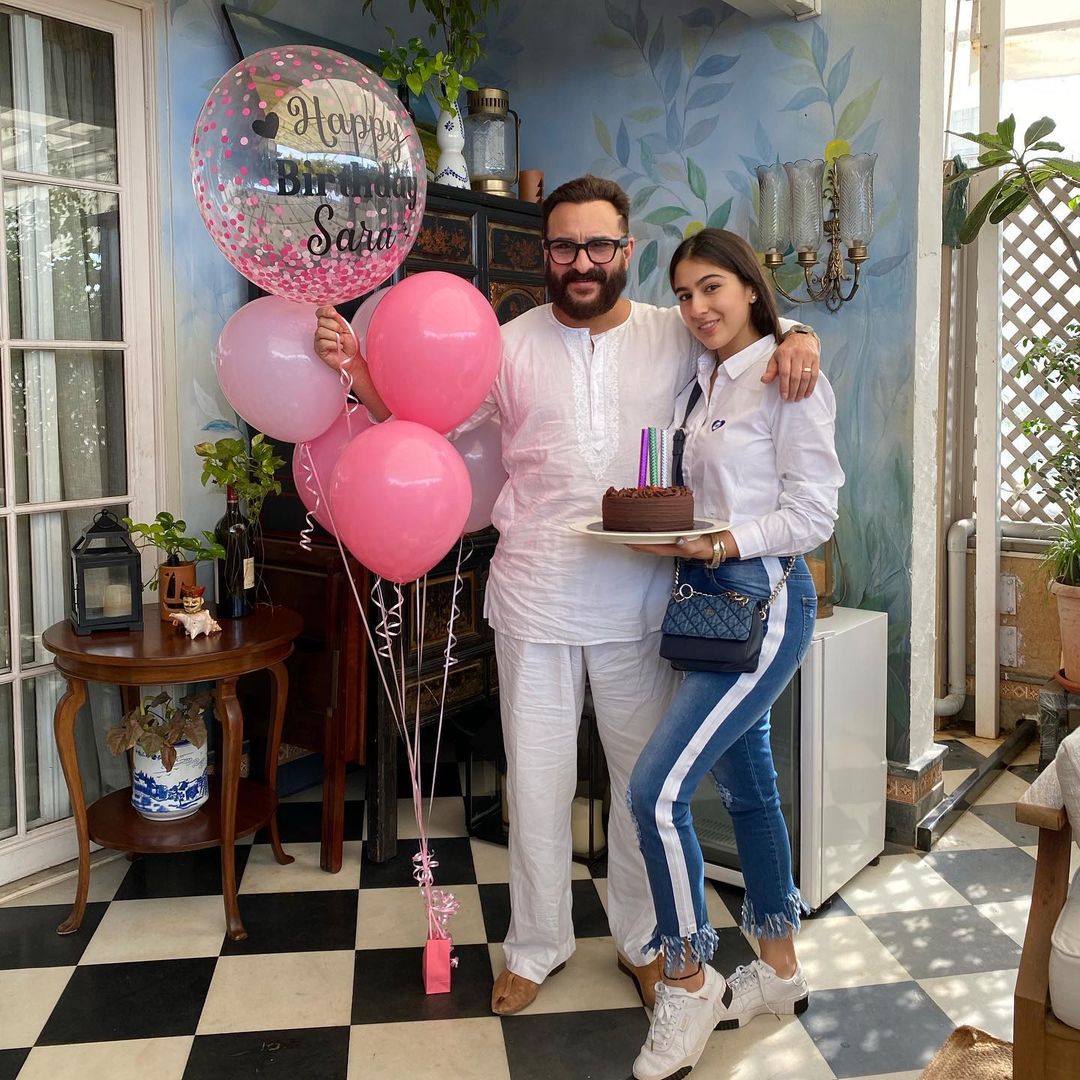 These pictures are also getting a lot of love from the fans. And seeing these first pictures of Jeh, people are also expressing their love.
Rakhi Sawant And Urfi Javed Enjoys Shots In Late Night Birthday Celebration Inside Photos And Videos Sets Internet On Fire
Urfi Javed Birthday BashActress Urfi Javed, who made her special identity with the popular controversial show 'Bigg Boss OTT', held a pre-birthday party on the previous day, Rakhi Sawant was also present on this occasion. Photos and videos of Urfi's birthday celebration are becoming increasingly viral on the internet. Rakhi has also shared many videos of this party. In this video, Rakhi and Urfi are seen having a lot of fun.
It can be seen in the video that Urfi and Rakhi are enjoying the pre birthday party. Sharing the video, Rakhi wrote, 'Happy Birthday to Urfi.' Many celebs have given their reaction on this post of Rakhi. His close friends were present in this party of Urfi. Urfi is also in the headlines these days because of her looks and style. His pictures are becoming increasingly viral on the internet. Many people have also raised questions on Urfi's dress sense, but the actress does not care about such people.
Because of this, Urfi Javed is in the headlines
Significantly, Urfi is known for her airport looks and for making headlines for shows like 'Bade Bhaiya Ki Dulhania', 'Meri Durga' and 'Bepnaah'. Urfi Javed was very fond of acting and dancing since childhood. She wanted to make her career in this field. Although Urfi Javed started his career as a fashion designer in Delhi. According to media reports, Urfi Javed has dated Paras Kalnavat. Urfi Javed and Paras Kalnawat met on the sets of 'Meri Durga'. However, later both of them separated from each other.
ACTRESS Kiara Advani Fitness Mantra Read Her Full Diet Chart
Kiara Advani Fitness Routine: Kiara Advani is currently at a great stage of her career. He has many big films at the moment. At the same time, apart from acting, there are crores of fans of Kiara's beauty too. On social media, Kiara often shares fitness videos with fans, which shows how cautious she is about her health. Today millions of girls want to have a figure and beauty like them. But getting a perfect body like Kiara is not easy.
Kiara Advani Workout: Kiara Advani likes to workout in the morning. At the same time, her workouts especially include burpees, pull-ups and kick boxing. At the same time, Kiara also likes to do cardio. At the same time, whenever Kiara does not feel like going to the gym and exercising, then she definitely dances and walks. Kiara believes that dance is the best and best way to work out.
Kiara Advani Diet: Kiara Advani consumes as little sodium as possible in her diet. His day begins with a glass of lukewarm water with honey and lemon juice.
Breakfast: Kiara usually likes to eat apples with oats for breakfast. Instead of apples, she also eats seasonal fruits.
Lunch: In lunch, Kiara eats nachni roti with lentils, vegetables, rice. He loves home food.
Dinner: Kiara loves to eat fish. She eats fish in dinner, or eats lentils, roti, vegetables.
Samantha Ruth Prabhu Is Spending Time With Her Two Kids To Forget The Pain Of Divorce
Samantha-Naga Chaitanya Divorce: South's famous star Samantha Ruth Prabhu has announced a divorce from Naga Chaitanya, a few days before celebrating her fourth wedding anniversary. The fans of both are shocked to hear this news. At the same time, Samantha has not been able to get out of this sorrow yet. The streak of sorrow is clearly visible on her face and she is doing many different things these days to move forward in her life. Let us also show you how Samantha Naga is forgetting Chaitanya and moving on in her life.